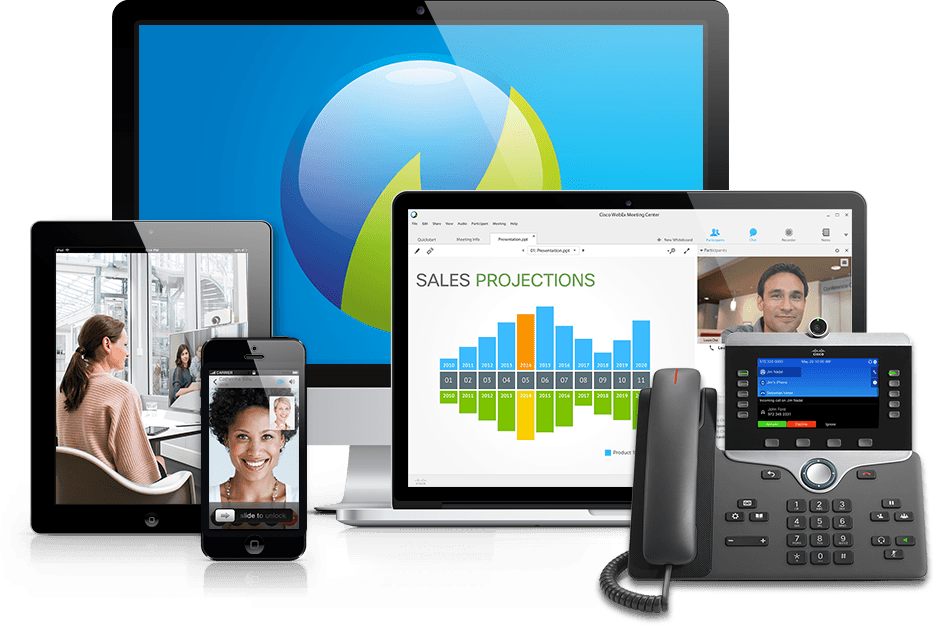 STRESS-FREE SIP TRUNKING
Instantly deploy SIP trunks with automated billing
SIP trunking is replacing traditional ISDN & PSTN phone lines and that's a good thing.
With no connection and other up-front charges, you can start cost-effectively with just a single channel on a monthly contract. Daily and monthly spending limits are integrated as standard and provisioning is easy and instant using our portal or via APIs.
Compatible with any SIP/2.0 PBX, you can even use your existing infrastructure to simplify your migration, then enhance your service further with other cloud services.
Get the brochure
SIP trunks work by connecting your existing PBX (or IP-PBX) phone system to the outside world using a data connection (either internet, Ethernet, or IP VPN), without losing the features and services you use every day.
You can use either your existing internet connection, or speak to us about providing a guaranteed QoS-enabled circuit that will support both your SIP and data traffic.
Get in touch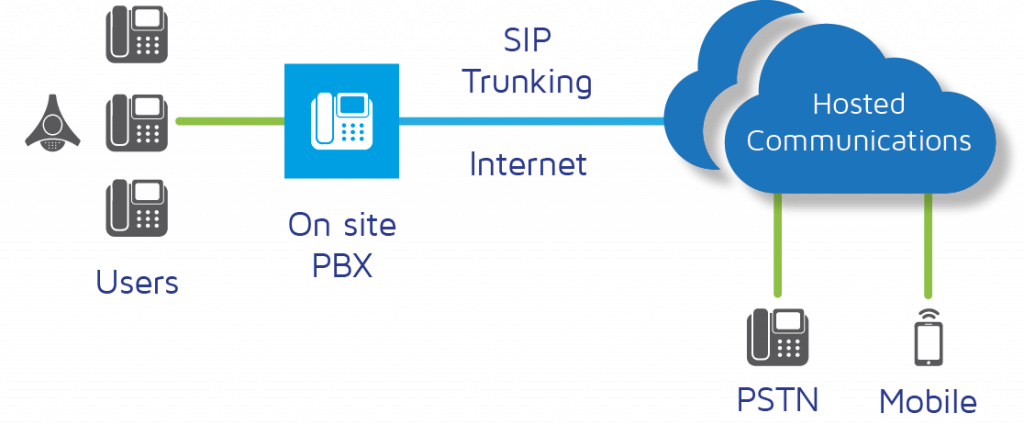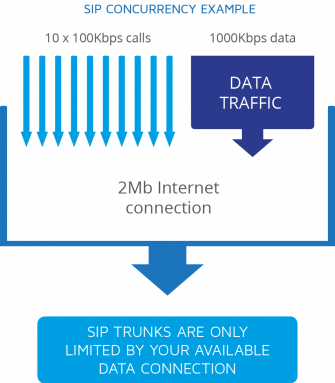 SIP calls can share the same circuit as your data. Applying Quality of Service (QoS) to your connection will mean call quality is optimised.
When adding SIP trunks, your only limitation is the bandwidth of your data circuit. You can add as many channels as you like so long as your data connection is big enough to support it.
Get the brochure
By using Voice over Internet Protocol (VoIP) and Session Initiation Protocol (SIP) together, you no longer need separate phone lines, saving you money, consolidating services, and increasing flexibility.
It's time to switch to SIP
Our service, platform and development began and continues to evolve in the cloud. For you, this equates to a service that has no legacy systems, only cloud-ready functionality that is under continual development, adding new features and value every day.
Often said, seldom seen. Why shouldn't you have the assurance of great quality service for a reasonable price? Our focus has always been to develop features and services you need to do good business, and not overload you with functionality that doesn't.
No one likes waiting. Our cloud services have dispelled the myth that you have to wait months for a solution or connection. Instead, we aim to deliver your solution in days. Whilst we cannot always alter third-party delivery schedules, we'll do our best to get you up and running as soon as we possibly can.
Automation is definitely an empowering thing, but sometimes it can go too far – where you have no one to talk to but machines. We automate where it makes sense and serves you, yet always have easy to access human technical support and assistance.
We're proud of the fact that we have one of the very few Cisco powered hosted communications platforms in the UK. It not only enables us to deliver a far more flexible service to you, it also comes with a heritage of reliability and world-class performance that businesses both big and small appreciate.
Everyone we provide service to is supported by a dedicated team of technical and advisory personnel. It means that when you need our help, we know more about you and your business, so we can help you find and do what you need that much faster.
We probably don't expect you to call on us at 3am in the morning, but you just never know when you might have a Priority 1 or Priority 2 emergency. Our round the clock service is there to make sure that whatever the hour, help is always on hand to keep your experience and service at its best.